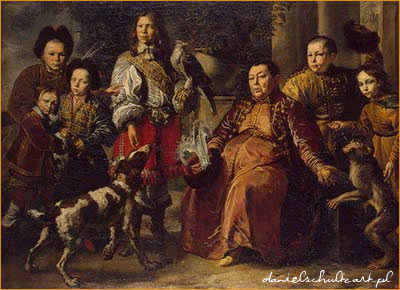 Daniel Schultz the Younger, "Family Portrait of Dedesza Aga", oil on canvas, 1664, Hermitage Petersburg (Source of Entry: Catherine Palace Pushkin 1937), Russia
---
This painting is a property of the Hermitage Art Collection in Petersburg.
There are several mistakes in its description - we're being told it's "Family Portrait " by an "German artist, spent his career outside his native country"
[Click here to compare it with Daniel Schultz biography].

this picture was downloaded from Petersburg Hermitage Pages
Monkey and dog are not important for practical role of this painting but they were used by painter to change artistic side of this picture and paint not a strict portrait.
Among persons that look really oriental, there are some boys, who surely are not from Dedesz family. I would connect it with the fact, that till the end of 1990's this picture was suspected to be "Family portrait of Dominik Radziwiłł". Surely it isn't, however these two boys might be sons of Radziwiłł, painted as guests with Aga family.
© 2000-2008 malarze.com + pkl webdesign
You are 793 guest.

Polski
our media partner: